Newcastle Hospital Pedestrian Crossings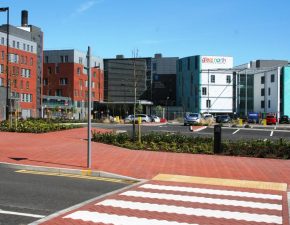 The Site
Originally built in 1751, the Newcastle Infirmary was renamed The Royal Victoria Infirmary in 1906. The hospitals 'Royal' Patronage was awarded by King Edward VII on the 11th July 1906. The fully furnished and equipped hospital, contains twenty wards, a nurses' home, chapel and five operating theatres, which cost over £300,000,000. The statue of Queen Victoria was gifted by Riley Lord, who was knighted for his efforts in the creation and building of the Infirmary.
The Challenge
As the key Pedestrian Crossings at the Royal Victoria Infirmary had failed before, stabilisation of the sand joints to prevent paving failure, and the subsequent trip hazards associated with this, was a key part of the consultations. Furthermore, with the use of Marshalls White Marker Concrete Blocks, which have a coated layer of glass beads for reflective qualities, a sealer that would not negatively affect the reflective capabilities of these blocks was required.
The Solution
As a conventional sealer would be wholly unsuitable for this type of paving, as it would adversely affect the reflective capabilities and therefore negate its purpose as a safety feature, the specialist pre-polymer urethane (SPPU) Resiblock Ultra Matt was selected. Resiblock Ultra Matt's ability to not only stabilise but also enhance the reflective safety feature of these pavers made this sealer the standout choice for the client Healthcare Services Ltd.
Benefits at a Glance:
One pack material
Prevents sand erosion from paver joint
Prevents the ingress of water and fuel spillage to sand laying course
Maintains structural stability under heavy duty trafficking
Elastomeric bond works in tandem with paver system
Case Study
Project name: Newcastle Hospital Pedestrian Crossings
Client: Healthcare Services Ltd
Contractor: Joyce Construction
Site: Royal Victoria Infirmary Hospital, Newcastle
Project: Newcastle Hospital Pedestrian Crossings
Area: Key Pedestrian Crossings
Paver type: Marshalls White Marker Concrete Blocks & Weinerburger Clay Blocks 200mmx 100mm x 80mm
Product/s: Resiblock Ultra Matt
Date: June 2018