Stanley Road, Bootle, Liverpool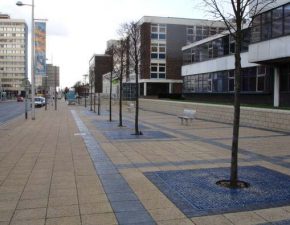 Problem:
Following the Accolade of European City of Culture 2008, Liverpool City Council have implemented a significant external pavement refurbishment programme. The first area to be completed, Liverpool's Commercial District and as with all other key areas benefits from small element flexibly laid paving. In readiness for 2008 Liverpool City Council recognised that whilst aesthetically pleasing this type of paver pavement can often be blighted by sand erosion resulting in paver de-stabilisation, staining and weed and grass growth from within the sand filled joint. .
Solution:
Liverpool City Council formed a partnership known as "Liverpool 20/20" with one of the UK's leading firms of architects/engineers Mouchel Parkman. Mouchel Parkman have over the last decade worked on numerous projects with Resiblock Limited in providing solutions in terms of paver stabilisation.
10,000m² of small element flexibly laid paving in the centre of Liverpool's Commercial District "Bootle" were successfully stabilised with Resiblock Ultra Matt & Resiblock Resiecco with projects towards the end of 2007 which were stabilised at the City's waterfront projects and Albert Dock area.
Resists oil and diesel stains
Significantly reduces staining by food and drink
Virtually eliminates residual staining by chewing gum oils
Inhibits the growth of weeds and grass in joints
UV Stable (Ultra Matt)
Case Study
Project name: Stanley Road, Bootle, Liverpool
Client: Liverpool City Council
Contractor: Wrekin Construction Ltd
Site: Stanley Road
Project: Stabilise Paving within Liverpool's Commercial District
Area: 10,000m²
Product/s: Resiblock Resiecco | Resiblock Ultra Matt
Date: August 2006