Pool Meadow Bus Station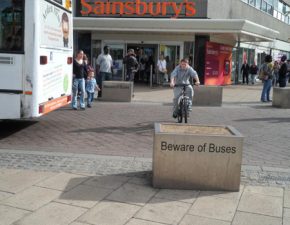 The Site:
Located in Coventry City Centre with nineteen departure stands including long distance coach services.
Problem:
At the heart of this regeneration project was the need to provide a robust attractive paved area – Marshalls Tegula was selected. Concern was expressed regarding jointing sand migration from heavy duty trafficking leading to paving failure as well as significant staining from diesel etc.
Solution:
Resiblock '22' was developed to stabilise the jointing sand within small element flexibly laid paving at aircraft aprons. Its simplistic application will prevent water and fuel infiltration via the joint whilst preventing sand erosion in turn promoting good interlock within the system, preventing paving failures i.e. rutting and deformation from heavy duty trafficking.
Benefits:
One pack material
Prevents sand erosion from paver joint
Prevents the ingress of water and fuel spillage to sand laying course
Maintains structural stability under heavy duty trafficking
Elastomeric bond works in tandem with paver system
Case Study
Project name: Pool Meadow Bus Station
Client: Network West Midlands
Contractor: Bardon Construction
Site: Pool Meadow Bus Station, Coventry
Project: Pool Meadow Bus Station
Area: 440m²
Paver type: Marshalls Tegula
Product/s: Resiblock '22'
Date: January 2009