Nexus Park, Braintree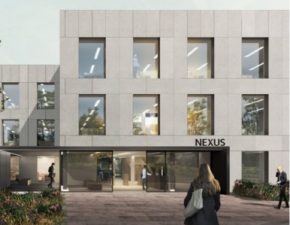 The Site
Nexus Infrastructure PLC aimed to create a more collaborative working environment with the building of their new headquarters called Nexus Park in Braintree Essex. The idea behind the new building was to bring together the four businesses under the Nexus umbrella into one Head Office.
The Challenge
With around 320 jobs expected to be created at Nexus Park, the client was concerned how high volumes of footfall traffic would effect the sand joints on the Geoceramica Porcelain Pavers. Nexus Infrastructure realised that the loss of jointing sand would lead to paver destabilisation and the potential of trip hazards.
The Solution
With the use Porcelain Pavers, an extremely dense and non-porous paver unit, on site traditional sealing solutions were not available to Nexus Infrastructure and their contractors Tamdown Construction. Tamdown contacted Resiblock for a solution and Resiblock were able to showcase the use of Resiblock Resifx, a proprietary self-binding jointing sand that forms an impermeable polymeric adhesive, as a sand stabilising solution. Resiblock could show success of Resiblock Resifix at The FA Academy at St Georges Park where similar issues had arisen. This led to the specification of Resiblock Resifix.
Benefits at a Glance:                                                                       
One pack material
Inhibits the growth of weeds and grass in joints
Sweeps in like jointing sand
Simply activate with the addition of water
10 times faster to install than traditional pointing methods
No effect on the colour of the paving
Environmentally friendly
Case Study
Project name: Nexus Park, Braintree
Client: Nexus Infrastructure PLC
Contractor: Tamdown Construction
Site: Nexus Park, Braintree, Essex
Project: Nexus Park
Area: 1,222m²
Paver type: Geoceramica 600mm x 600mm
Product/s: Resifix Commercial
Date: March 2021